Sunday, June 12, 2005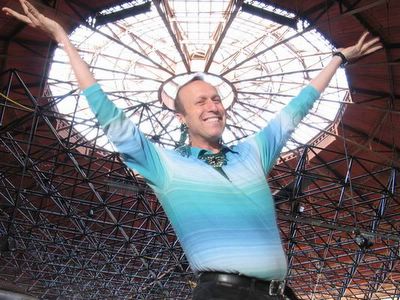 Theater Offensive's irrepressible Abe Rybeck

This being Pride weekend in Boston, Fritz came down from New Hampshire for the first time in about five years. He hadn't been able to get away in the intervening years because of groups that had rented his center on Pride weekend. It began with a pot luck in Jamaica Plain that began at 7:30 and went late into the night. We stayed about two hours and estimated the crowd at around fifty. Guys came and went; the company was excellent as was the food. With air conditioning going full blast and various cooking devices working overtime, circuit breakers kept popping regularly. Aside from some old and dear friends, there were several men who had recently been at gay events at Fritz's and it was nice to see them wanting to remain within our circle.
Saturday we made our way to Copley Square and found our group, the Theater Offensive. TO's founder Abe Rybeck and I go way, way back to a time when his day job was with MIT Press and I helped him get productions mounted, including his early work "Blame It on the Big Banana." The heat was intense. We came equipped with sun screen and frozen water bottles, loose cool clothing and Fritz had a multicolored umbrella that looked very festive. As we awaited step off, the jobs TO's coordinator wanted us to do kept shifting but we were finally posted to the very front, carrying "The Theater Offensive" banner, backed by four Vespa motor scooters, two of which were driven by men and two by bare-breasted lesbians with heart-shaped pasties painted on. EVERYBODY went crazy over them, straight guys, lesbians, gay boys, local access TV cameramen, everybody. Delightfully, several of our friends ran out of the crowd along the way to give us a quick kiss as we passed.
This is as good a time as any to mention that I walked out of the house having completely forgotten my digital camera. DUMB! Especially when there was someone so photogenic as the big bear in the feathered mummer-style costume and three foot high penis and testicles headdress made out of brightly colored fuzzy balls.
Given the current political/religious climate, there were some surprising groups marching, including Our Lady of the Immaculate Conception Church that clearly does not buy Vatican hate policy and announced on its banner that all were welcome. A Jesuit group with a similar message was also represented.
The approximately three mile walk wasn't too hard—there was a wonderful breeze that sprang up with some regularity and in the South End, trees lining the streets provided welcome shade from the sun. When we reached the end at Charles and Beacon Streets, we folded up the banner, stored it in the truck and hung out under the trees on Boston Common watching the crowds go by, and rehydrating on overpriced but very good freshly made lemonade. We were there for about half an hour and an entire spectrum of gay life from lesbians with children to mostly naked leathermen (one on a leash led by the other, both magnificently tattooed) passed us by.
When we got back to the house, the heat finally caught up with me. This means two things—one, I have little desire to do much of anything but, two, I get fiercely horny. Heat just does that to me. We've had more sex in a forty-eight hour period this weekend than I can ever remember. Anyway, we ended the day with my taking him out to dinner at the Village Grill and Sushi, a relatively new restaurant in the increasingly Jamaica Plain-ified (ie, becoming gayer all the time) Roslindale Square.
Today we lay low because of the heat. We had friends in for brunch this morning and went to the Boston Gay Men's Chorus George Gershwin concert tonight--musically very challenging for them and rewarding for the audience. Even the fact that Jordan Hall's air conditioning wasn't working--a potential disaster for the chorus in this weather--couldn't hurt an excellent program superbly performed.